BSc (Hons) Project Management or (with foundation year)
It is now possible to achieve innovation, transformation, and commercial success thanks to the widespread adoption of project management in all spheres of the global economy. You will learn these methods and tools from a group of seasoned project management experts during the APM-accredited BSc (Hons) Project Management course.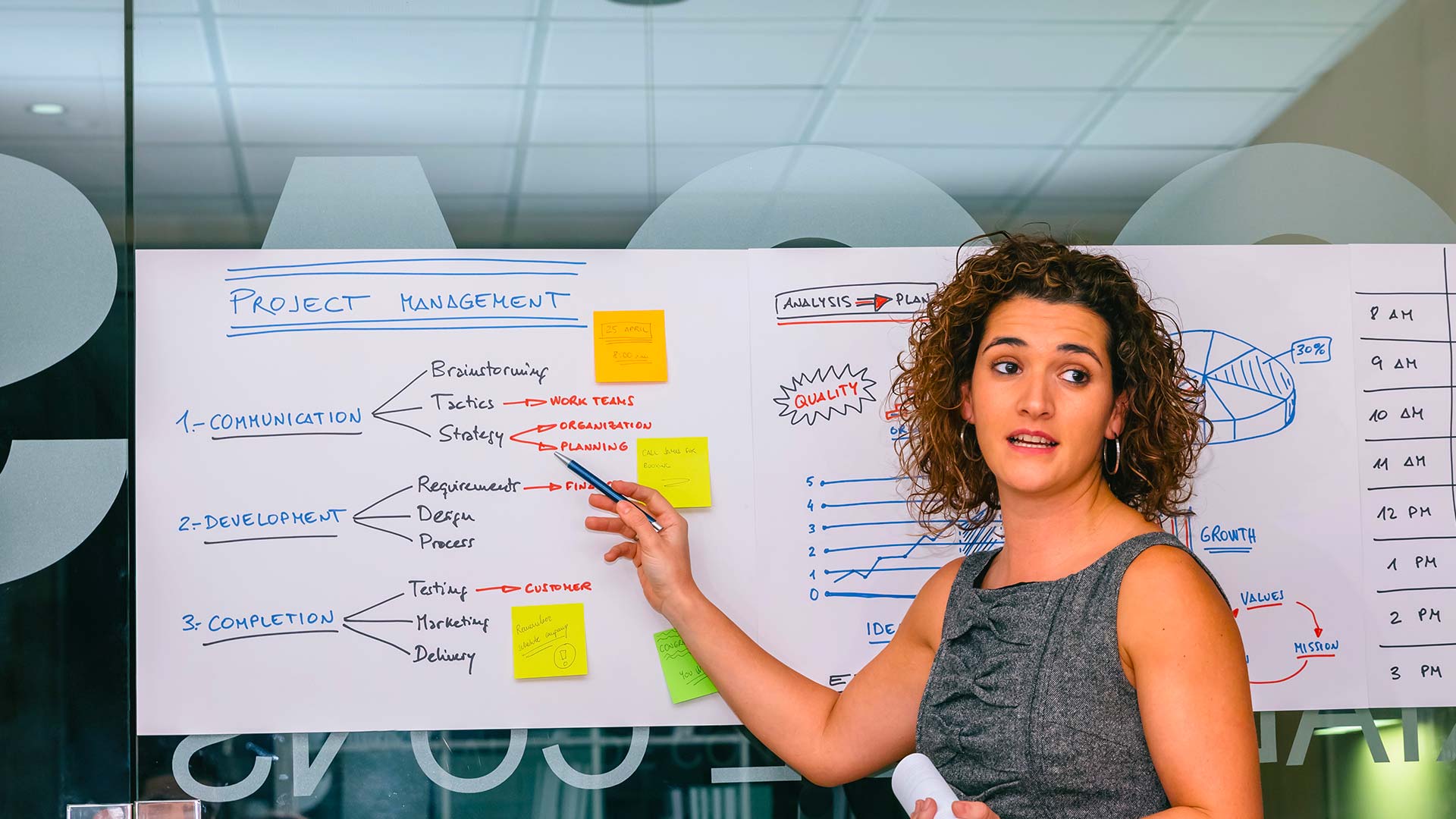 | | |
| --- | --- |
| University | Arden University |
| Degree | BSc (Hons) Project Management |
| Level of study | Foundation Year (Y0) / First Year (Y1)) |
| Start date | September, October, February, May |
| Duration | 3 or 4 years (with foundation year) |
| Location | London, Birmingham, Manchester or ONLINE |
| Delivery | Weekends, Weekdays or Evenings |
| Hours per week | 9-12h |
| Fees | £9250 (ONLINE option is cheaper) |
| Finances | Eligible for the Tuition Fee Loan and the Maintenance Loan |
Course Overview
Engineering, technology, education, healthcare, event management, community and environmental programs, tourism, and many other creative and service industries all use project management. This means that you will have the knowledge and abilities necessary to enter the industry of your choice with an The project management degree gives you the power to immediately influence the development, implementation, and success of a wide range of projects. You'll study current topics and themes throughout the course, proving to employers that you have a thorough understanding of the newest project management ideas. Your courses will also have a digital-first focus, offering you the expertise and critical understanding of business solutions to make a significant difference in the workplace as current projects become more dynamic and difficult.
According to a recent Association of Project Management report, the harsh reality is that only 22% of projects fully achieve their initial objectives. On the other hand, in the same poll, 87% of organizations said that successful project teams were essential. This indicates that the project management industry now has a significant skills gap, which your degree studies, under the direction of our devoted staff at Arden's School of Project Management, can help you fill.
Even if you lack the academic assurance or credentials to enrol in a typical undergraduate degree, this course has been created to provide you with the skills you need to advance to a job in project management. The foundation year, which offers study skills and advice at every stage, is ideal if you need a little additional assistance as you begin your path to higher education.
Modules
Entry Requirements
Assessments
Funding & Fees
Foundation Year
● Using Numeracy, IT and Data (20 credits)
● Research Skills and Using Information (20 credits)
● Values, Ethics and Working Collaboratively (20 credits)
● Developing Academic Skills (20 credits)
● Structure of Business (20 credits)
● Technology in Organisations (20 credits)
Level 4
● Business Research Methods and Analysis (20 credits)
● Business Consulting (20 credits)
● Principles of Procurement, Financial Control and Contract Management (20 credits)
● Governance in a Global Business Environment (20 credits)
● Introduction to Project Management (20 credits)
● Elective: Digital Skills & Professional Development (20 credits)
● Elective: Technology and Innovation (20 credits)
Level 5
● Advanced Project Management (20 credits)
● Project Justification (20 credits)
● Project Planning (20 credits)
● Agile and Hybrid Project Management (20 credits)
● AI and Big Data Analytics in Project Management (20 credits)
● Elective: Operations & Supply Chain Management (20 credits)
● Elective: Digital & Social Media Marketing (20 credits)
Level 6
● Project Change and Control (20 credits)
● Quality Management (20 credits)
● Project Risk and Issue Management (20 credits)
● Developing People and Capabilities (20 credits)
● Final Project including End Point Assessment (40 credits)
Standard entry:
● Minimum of 3x GCSEs or 45 credits at Level 2 or equivalent – for qualifications older than 3 years the CV is required.
● High School diploma from your native country
Non-standard entry:
● All applicants can apply based on their work experience - 12 months of work experience within the last 5 years is required. Consequently, academic qualifications/diploma is not required.
● To sum up, you don't need any qualifications to be accepted at the university or college. You just need to pass English Test - Duolingo
English language requirements
● All applicants must pass Duolingo English Test. You don't need to pay for English Test - we provide you with a free voucher.
● All applicants must score an overall of 105 points on the Duolingo English Test to be accepted.
● All applicants cannot achieve lower scores per each component as per the below table.
| | |
| --- | --- |
| Duolingo | Minimum Required Score |
| Overall Band | 105 |
| Comprehension | 105 |
| Literacy | 95 |
| Conversation | 85 |
| Production | 75 |
● Reflective analysis
● Portfolio development
● Work products
● Narrated presentations
● Risk assessments
● Proposals for agile implementation
● Case study reports (which can be based on real company data to examine real-world problems that a company is struggling with right now - contextualise your knowledge into the real world).
Funding for your studies
All of the students will receive Student Finance which means that you don't need to pay anything.
Tuition Fee Loans
Your tuition fees are paid using a tuition fee loan. This is given to your University or College directly. Only once you have completed your study and are making at least £26,575 per year do loan repayments begin. Students who study full- or part-time may apply
Maintenance Loans
To pay for living expenses, you can also apply for a Maintenance Loan if you qualify. T his loan is deposited straight into your bank account. After you complete your degree and earn more than £26,575, your maintenance loan is due. Please visit www.gov.uk/studentfinance for additional details.
Maintenance Loan is NOT eligible for studying ONLINE.
Maintenance Grants
Additionally, you can apply for a Maintenance Grant to assist with living expenses. At the beginning of the term, maintenance grants are deposited straight into your bank account. Although you are not required to pay them back, any money you get will lower the amount of the Maintenance Loan you might be eligible for should you decide to apply for one as well.
General info
Student finance for undergraduate degrees covers:
- Tuition fee Loan - £9250 per year. This money goes directly from the Student Loan Company to the University (you don't touch this money).
- Maintenance loan: covers your own expenses and living costs.
- £9706 per year in you live outside the London
- £13000 if you live in London
The maintenance Loan goes directly to your account and you can do with this money whatever you want.
If you have pre-settled status you need to work and keep working during the status.
If you have a settled status you don't need to work.
The loan is provided by the UK government and covers 100% of the tuition fees charged by universities. The repayment rules are very favourable.
More information can be found on the government website:https://www.gov.uk/student-finance